Holly looked very seductive in her black sheer nylon blouse and tight pencil skirt, and sitting on the bed she ran her hands over her crossed legs in their black nylon pantyhose.
Slowly lifting her short black skirt revealed her shapely ass covered in sheer nylon pantyhose, which had a thick black seam and wide 'T-Bar' pattern running from the gusset up to the waist. Then laying sideways, she ran her finger along the crotch of her pantyhose and the crack of her ass, both of which were encased in tight nylon.
Stripping off her blouse and skirt she lay back on the bed and spread her legs apart, her hairless cunt and anus showing through the sheer nylon of the gusset. Pushing one hand down the front of her tights, she slipped her finger along the moist, pink gash of her pussy and touched her bum hole, while her other hand stroked the back of her leg in sexy pantyhose and heels.
Holly stretched the front of her pantyhose up her belly and slowly writhed on the bed as she massaged the compressed lips of her cunt through the tight nylon crotch of her hose.
'I'd love for your cock to be rubbing against me now, getting me excited and wet,' Holly said, then removing one of her heels she rubbed the toe against her pussy and used the sharp stiletto heel to tear a hole in her tights.
Holly played her fingers over the ruptured nylon of her pantyhose, causing it to split into multiple ladders which radiated as they ran down her long legs. Then grasping at the nylon crotch she ripped it to shreds and tatters with her fingernails and exposed the flesh of her nude cunt.
'Imagine your dick pushing inside me now, fucking while I wear my nylon pantyhose,' Holly suggested lasciviously, as she rubbed the hot lips of her naked pussy through the open hole in the front of her tights. Then spreading her cunt open so the pink flesh glistened with her juices, she licked the tips of her fingers and applying them to her clitoris she masturbated in her ripped nylon tights.
Get our superb Vintage Flash newsletter each week - all the latest model info, updates, set preview pics and more!
NEW SERVICE FOR ALL SMART PHONE USING NYLONS LOVERS!
Text Nat here to get all her pics sent to your phone!
JUST TEXT 'WHITESEAMS' TO 69666
Phone fun day or night!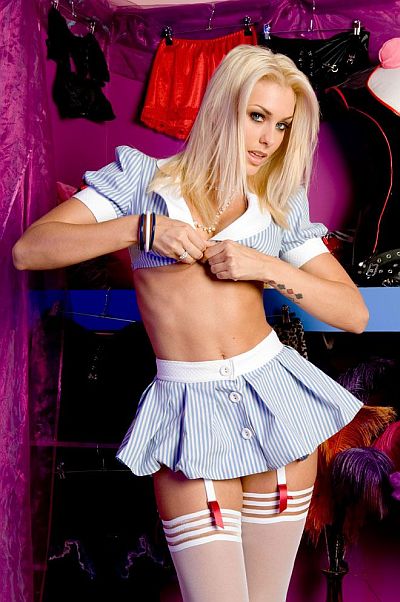 Terms & Conditions (Max 3x £1.50 per msg sent) help: 03333356970 PNP MEDIA - 2 STOP txt STOP
.......................................................................................................