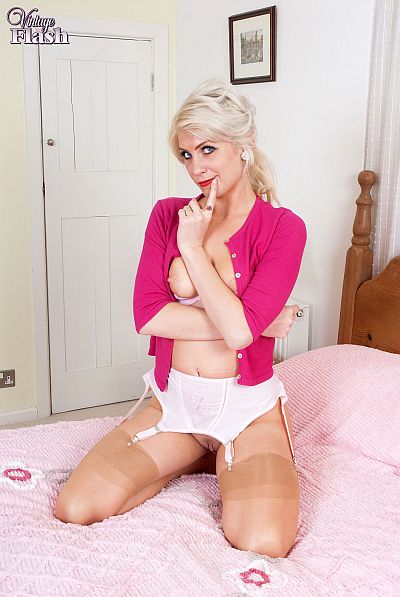 Bianca was almost ready to go out when she realized that her black nylon stockings did not go with the pink outfit she was wearing, so she decided to change into some tan nylons instead.
Sitting on the bed she unclasped her suspenders and gathering the nylon between her fingers she carefully rolled her black stockings down her slender legs and off her feet. Then she went to the bedside drawer and found the replacement stockings; a pair of tan full-fashioned nylons.
Bianca unzipped her skirt and pulling it slowly over the cheeks of her ass she let it fall to the floor, which left her standing in sheer nylon panties and garterbelt. 'Such a naughty girl, wearing see-through panties', she remarked, drawing attention to her pussy which was visible under the sheer nylon crotch.
Bianca drew the wispy gossamer of one tan nylon stocking through her fingers and then rolled it over her foot and up her leg, making sure the seam was straight and attached the suspender. She repeated the same ritual on her other leg; drawing the stocking up to her thigh and affixing the metal suspender clasp to the welt of her nylons.
'I love the feel of these nylon stockings, they really turn me on', she said, moving her hand over her foot and up her leg, then feeling her pussy through the crotch of her nylon panties. 'I bet you'd love to come and fuck me now wouldn't you. I'd love you to stick your cock deep inside me!'
Bianca then pulled her stretchy nylon knickers down her seamed stockinged legs and slotted several fingers into the sticky wetness of her mature quim to masturbate. Then reaching under a pillow she found her personal vibrator and inserted it in her hot mature cunt. Thrusting the vibro deep into her sticky wet hole she built up waves of orgasmic pleasure and finally reached a satisfying climax.
Get our superb Vintage Flash newsletter each week - all the latest model info, updates, set preview pics and more!