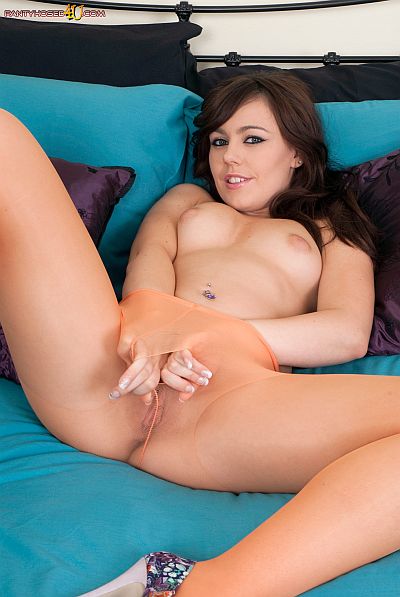 I caught Kacie as she was just getting ready to go out clubbing wearing a short black dress, orange pantyhose and heels the other day.
'It's quite short isn't it,' Kacie said, checking in the mirror to see how good her arse looked in that short tight dress. 'If I bend over you can see more', she continued, pulling up the hem to give me an even better look at her lovely round buttocks encased in soft, silky nylon.
What a prick tease, I thought to myself, as she turned and showed me her cute pussy through the sheer nylon crotch of her pantyhose. If she goes out dressed like that she'll be responsible for causing more than a few hard pricks tonight!
Kacie needed no encouragement to strip out of her dress and get on the bed to play with herself. Grasping the front panel of her hose, she pulled it upwards so it squashed the lips of her pussy under the tight nylon mesh of her pantyhose crotch.
'Would you like to lick my cunt through my pantyhose,' she asked invitingly as her hand stroked the mound of her nyloned pussy. 'I'd like to feel your wet tongue teasing my clit and tasting my sweet juices through my hot pantyhose crotch'.
Kacie continued to tease and lying on her front she gave me a rear view of her lovely pantyhosed arse. Then she put her hand down the rear of her hose to masturbate, and I watched as her fingers massaged her moist pussy.
Again, lying on her back with legs apart, she used her fingernails to rip a hole in her tights and exposed the soft pink lips of her cunt. Then slotting several fingers up her coochie and rubbing her clit at the same time, she wanked herself off to a juicy wet climax!
Get our superb Vintage Flash newsletter each week - all the latest model info, updates, set preview pics and more!