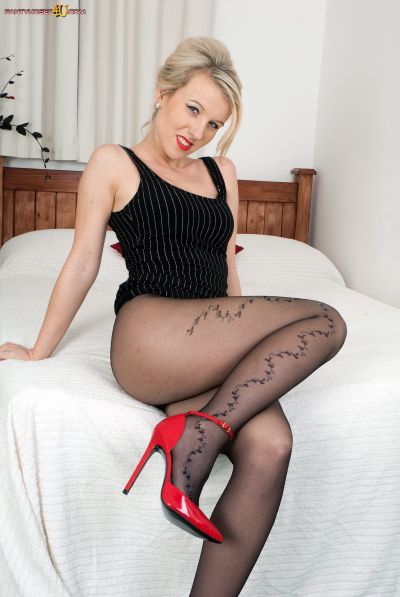 Evey was debating if she should go to the office in today, or stay at home and entertain me in her sexy micro-mini dress and gorgeous fancy pattern pantyhose.
Evey's arse looked amazing covered in that figure hugging dress, and her long legs looked stunning in her pantyhose as she stood and posed in her red heels.
Traditional pinstripe business suits never looked this sexy… In fact, Evey was thinking that her outfit was far too hot for the office. Seeing  that I was getting turned on by her teasing display, she finally decided to stay and entertain me some more…
Evey was also getting turned on, and I knew that just wearing those heels alone would be enough to get her excited. The combination of sexy black pantyhose running up her legs, to her pussy and ass, where also having their effect on her libido.
'I have a surprise for you as well, can you see it now?' Evey asked as she bent forward and pulled up the hem of her dress to show me she was wearing no panties.
'I felt so naughty this morning when I was putting my clothes on, I thought I'd like to make myself feel sexy, so what better way than to wear no knickers underneath my pantyhose.'
Evey enjoys wearing no knickers under her hose, as it means she can easily play with herself through the nylon gusset pulled tightly against her hot pussy.
'I can even do it while sitting at my desk, right here,' Evey said, demonstrating how she slips her hand between her legs and gives her pussy a nice feel through her pantyhose.
Enjoy watching Evey as she gives us a raunchy show on her bed, playing with her hot cunt and ripping open her designer hose so she can masturbate to orgasm, in her (199 image) pantyhose photo set and 14 minute video 'Too Sexy For The Office'.
Get our superb Vintage Flash newsletter each week - all the latest model info, updates, set preview pics and more!