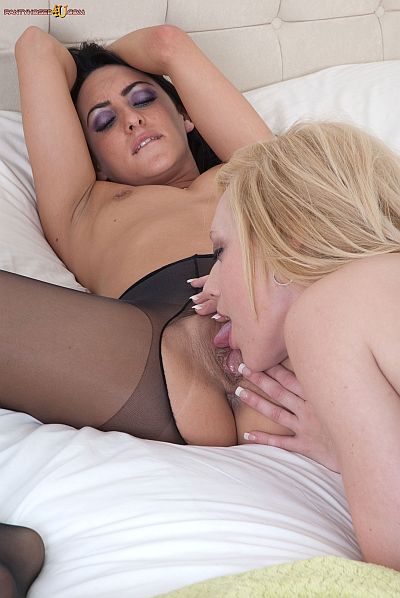 Chloe And Axa J went out clubbing with the intention of looking for a couple of guys to bring back to their room for a night of fucking! However, the wimpy men at the club were too scared to chat up these two hotties.
Seriously, how could these guys miss the opportunity to shag these two horny babes in their short, clingy mini dresses, sheer nylon pantyhose and dangerously sexy heels…
Both girls were clearly up for it, making sure that they showed their wet pussies shimmering behind the mesh of their pantyhose as they gyrated on the dance floor.
Once back in their room, Chloe And Axa decide to entertain themselves, and soon turn each other on by kissing and fondling their pussies and asses covered in clingy nylon pantyhose.
Axa licks Chloe's ass and pussy through her black hose, before ripping open the gusset and tasting her friend's cunt as she gives it a good tonguing.
Chloe returns the favour and licks Axa's juicy cunt through the nylon screen of her nearly nude pantyhose.
Both girls spend time giving their pantyhosed pussies, legs and asses a lot of attention, licking their cunts in a sixty-nine position as they pleasure each other to orgasm.
See pantyhose loving lesbians Chloe And Axa get off in their (262 image) photo set and 24 minute video – 'What The Boys Are Missing'.
Get our superb Vintage Flash newsletter each week - all the latest model info, updates, set preview pics and more!