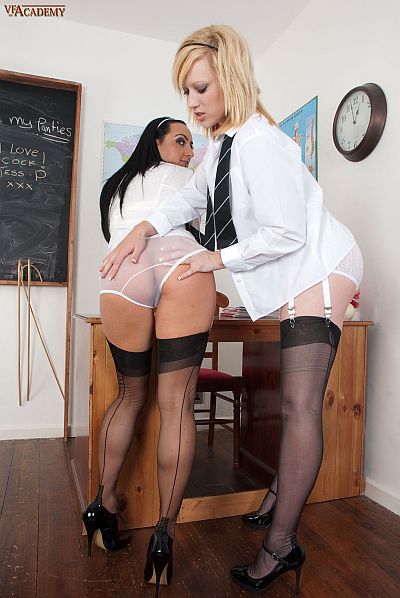 Axa J finds out Chloe has been messing with her boyfriend, and their noisy squabble in the hallway gets them both in trouble and sent to the detention room.
Axa gets a bit rough with Chloe, pushing her onto the desk and pulling her tie, but soon the pair settle their differences and indulge in some passionate kissing and feeling up their nylon panties, stockings and suspenders.
Helping each other to strip out of their uniform skirts and blouses, the pair get down to lots of tit sucking and pantie licking as they make out on the teacher's desk.
Lots of pantie gusset licking, leg kissing, and pussy loving follows, as this pair of dirty girls indulge in extended cunnilingus, sucking and tasting each others sweet cunt juices.
Enjoy seeing Axa and Chloe as they spread their pink pussies wide, using tongues and fingers to pleasure their pussies to orgasm, in this (211 image) photo set and video – 'Rivals In Love'.
Get our superb Vintage Flash newsletter each week - all the latest model info, updates, set preview pics and more!