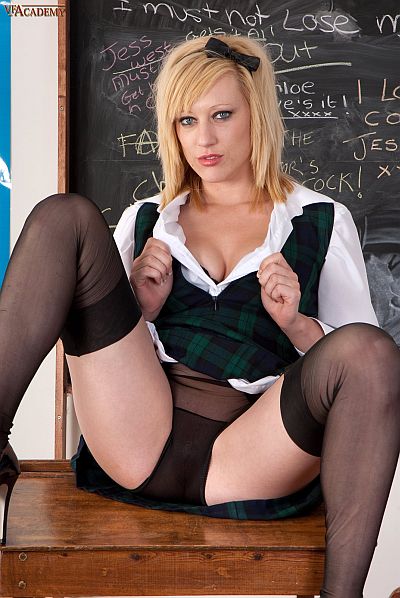 Sexy blonde Axa is in detention again, but this time she's gotten in trouble deliberately, just so she can show off her naughty panties and let you watch as she plays with herself.
Axa loves being naughty and raises one leg so it rests on the desk top, looking over her shoulder as she gives a rear view of her sheer black panties, suspenders and sexy stockings tops.
'I think what would be really nice, is someone licking through these sheer panties,' she says, feeling her ass and touching her butthole through the sheer nylon material covering her rounded cheeks.
'Let me take these off, then I can have a nice play for you,' she suggests, bending over and pulling her knickers down her seamed stockinged legs.
'I'm dying to have your fingers stuck deep in my arsehole,' she teases invitingly, leaning over the desk and pulling her arse cheek to one side.
'That's why I came today, so you can have a play with me,' she says, circling her moist finger around the puckered ring of her anus.
After playing with her ass for some time, Axa sits on the desk and gives a full frontal view of her hot pink pussy.
'I'll make it wet for you', she says, as she masturbates with her fingers making sucking sounds as they ream her wet cunt. 'I just want to feel your balls banging against my arse as you are fucking me.'
Then sitting on the chair with her stockinged legs lifted up and open wide, Axa talks dirty as she sticks her fingers up her arse and wanks her pussy at the same time.
'I want you to cum with me, and spunk all over me,' she says, as she vigorously frigs her sopping wet cunt and climaxes with fingers up both of her fuck holes.
See Axa J masturbating in nylon stockings in her (128 image) photo set and video – 'In Trouble For You' at VFAcademy.
Get our superb Vintage Flash newsletter each week - all the latest model info, updates, set preview pics and more!