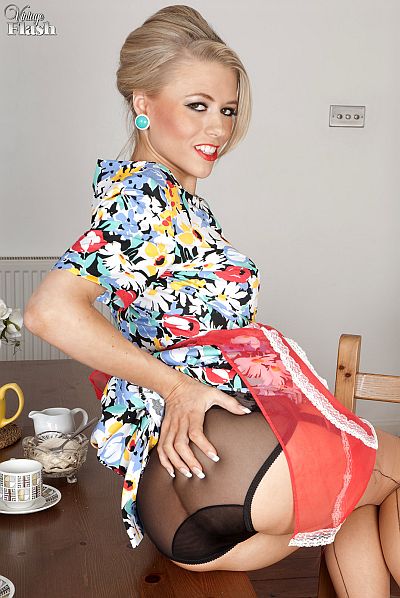 Domestic Goddess Michelle Moist had been busy in her kitchen baking cakes and preparing a nice spread in anticipation of my arrival at teatime.
She'd prepared her buns, and everything was brewed nicely when I turned up on time, but being invited around for tea was never like this, as I soon discovered..
Michelle looked every bit the prim and proper housewife in her floral dress and apron, but beneath her tidy attire she was hiding a gorgeous strapless bra and vintage garterbelt which was holding up her sexy seamed nylon stockings.
Making it clear there was more than tea on the menu, Michelle suggested she wanted to quench my thirst with 'a little something else'.
'This is no oridnary English tea, let me assure you,' she said, delicately stroking her stockinged leg with one hand up to the top of her suspendered thigh. 'This is teatime with a naughty difference!'
Raising her dress she showed me the tops of her stockings and suspenders, then put her hand down the black panties she was wearing, feeling her arse and slipping her fingers into her moist pussy hole.
'I'll bet you're glad you can round for tea now, aren't you?' She asked, bending over and running her hands up her nyloned legs as she stood in her heels.
I sure was, as Michelle put on a superb display of lascivious behavior in her kitchen, climbing onto the table, spreading her juicy cunt lips, and masturbating with her fingers buried deep inside her snatch.
See Michelle Moist masturbating in stockings and suspenders in this (240 image) photo set and video 'Let's Have Hot English Tea' at Vintage Flash.
Get our superb Vintage Flash newsletter each week - all the latest model info, updates, set preview pics and more!