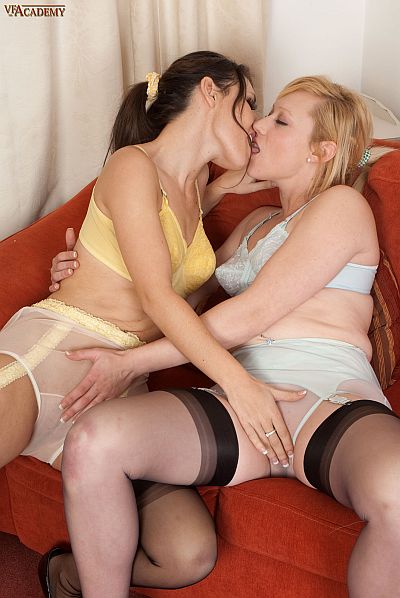 Axa is feeling so horny after some 'heavy petting' with her boyfriend from the local college, she gets together with her friend Jess to have a girly chat about boys and sex.
Their intimate talk soon leads to them both kissing and touching each other up as they relax on the sofa.
Jess places her hand between Axa's stockinged legs and rubs her friend's cunt slit through sheer nylon panties as they share kisses.
Then Axa responds likewise, touching Jess's nyloned cunt through the flimsy gossamer of her sheer knickers, and together they mutually masturbate.
Axa strips off her uniform dress and bends over to let Jess explore between her legs. She feels her friend's fingers gently massaging her pussy through the sheer nylon of her panties, soaking the material of her knickers with her flowing cunt juices.
Jess then kisses Axa's pantied ass and licks the back of her seamed stockinged legs; sliding her wet tongue all the way up from the back of her knees right to the tops of her stockings.
Both girls then indulge in lots of pantie play and knicker sniffing, followed by finger fucking and clitty licking, leading to a dual masturbation scene where both girls climax together.
See Axa and Jess strip down to their stockings and suspenders in this (201 image) photo set and watch them wanking together in their video – 'Get Me Horny' at VF Academy.
Get our superb Vintage Flash newsletter each week - all the latest model info, updates, set preview pics and more!