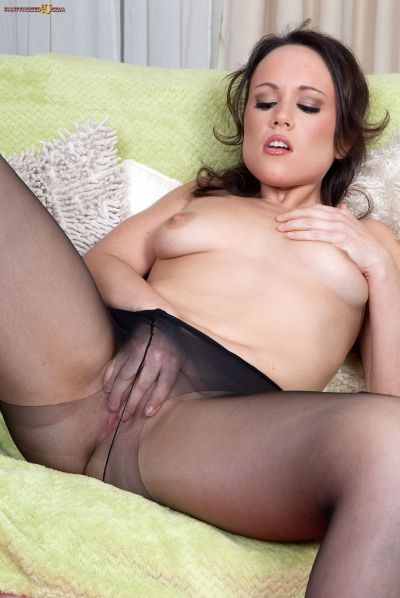 Lucy Love is always willing to please and was dressed just they way I like it – in a little black dress that barely covered the top of her pantyhosed thighs.
Standing in front of me she raised the hem of her dress to reveal she was wearing pantyhose without a patch in the gusset, and no panties!
Lucy stood there and showed me her perfectly nyloned pussy, then slipped her dress off and let me look at her pert arse encased in lovely black nylon hose.
Getting comfortable on the sofa, Lucy spread her legs and I could see her delicious juicy pussy and puckered ass hole clearly visible through the sheer black nylon!
I moved in close as her hand slipped down the inside of her pantyhose, watching her fingers dip into her moist slit and massage her juicy cunt. 'I bet you'd love to have your hand down here wouldn't you?'
I continued to video Lucy enjoying a lingering wank in her pantyhose, her fingers making liquid sounds as they slipped in and out of her moist fuckhole.
Finally ripping open her hose, Lucy shoved several fingers up her snatch and vigorously rubbed her rosy pink slit to reach an intense pantyhose orgasm!
See Lucy Love playing in her pantyhose in this (129 image) photo set and watch her reach orgasm in her video – 'My Nylon Pussy' at Pantyhosed4u.com.
Get our superb Vintage Flash newsletter each week - all the latest model info, updates, set preview pics and more!