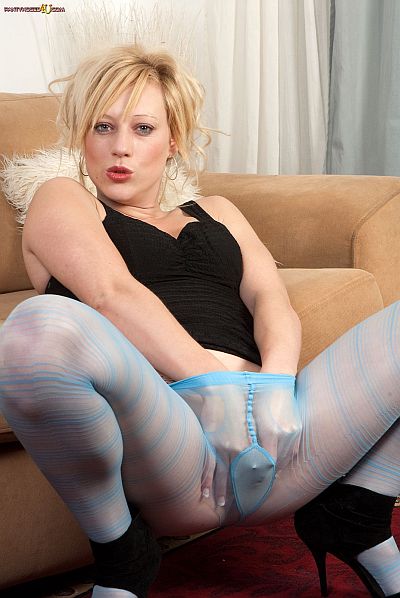 Axa has just returned from her night out strutting her stuff in a sexy black dress and sheer fancy blue pantyhose.
Her feet are tired from all that dancing, so she slips off her high heeled shoes, and begins to massage them in her hands.
'I love having my big toe sucked, especially with the tights over them, it's such a good feeling,' she says, and puts her toe in her mouth showing us exactly what she enjoys.
Axa licks the side of her big toe and tastes the nylon of her pantyhose tights. 'It feels so nice against my tongue, it's just so good to lick and suck!'
Turning her attention to her other foot, she runs her tongue right up the inside of her pantyhosed sole. 'I'll let you have a suck on these later,' she promises.
Axa opens her legs and reveals she is wearing no panties under her dress, and shows you her ass encased in sheer blue pantyhose nylon.
Then she gets into massaging her hot pink pussy lips through the nylon gusset before applying her blue vibe to her juicy pussy.
Inserting the vibe inside herself, Axa pulls the nylon gusset back over to hold it in place and lets it do its work.
With the the vibrator wedged right in her pussy, Axa plays with her clit through her sheer nylon pantyhose, before ripping them open to masturbate to a frantic orgasm!
See Axa J in this (156 image) photo set and watch her wanking in her pantyhose in her video – 'Blue For You' at Pantyhosed4u.com.
Get our superb Vintage Flash newsletter each week - all the latest model info, updates, set preview pics and more!