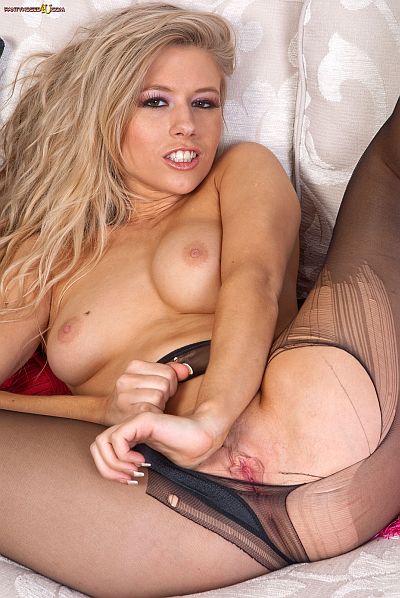 Want to know what goes on in a girls mind when she's after a feller? Well Michelle gives us the low down on how she uses her pantyhosed charms to, well… Get fucked by that chosen guy!
Wearing her 'barely there' little black dress that shows off her fabulous thighs in black pantyhose, Michelle is all ready to go out 'on the pull' tonight.
She has this guy in mind that she wants 'all to herself', and knows exactly how to win him over with this incredibly sexy ensemble she's wearing.
'You see I'm a horny, greedy, little bitch, and I'm going to do everything I can with my sexy nylon pantyhose, my little black dress and no panties,' she tells us, opening her legs and showing us she is indeed, wearing no knickers.
To further capture this guy's interest, Michelle states that, 'I'll be sitting there crossing my legs like this, flicking my hair, then maybe flash a bit of gash to get his attention'.
Michelle further demonstrates how she will put her plan of seduction into practice, and bending over shows how she will shake her pantyhosed ass right in his face.
'I want to make sure I get his attention, because I want a right good seeing too', she confesses. 'That's right, I wanna get fucked!'
Michelle gets herself all excited by her own actions, and so carried away by her sexual desires she just has to masturbate.
Ripping open the crotch of her pantyhose, she shows just how she wants to get fucked, and fingers her hot cunt as she imagines a big cock fucking all her exposed fuck holes.
See Michelle Moist in her torn pantyhose in this (120 image) photo set and watch her wanking in 'I Wanna Get Fucked' at Pantyhosed4u.com.
DOWNLOAD THIS VIDEO OF MICHELLE MOIST WANKING IN RIPPED PANTYHOSE
Get our superb Vintage Flash newsletter each week - all the latest model info, updates, set preview pics and more!