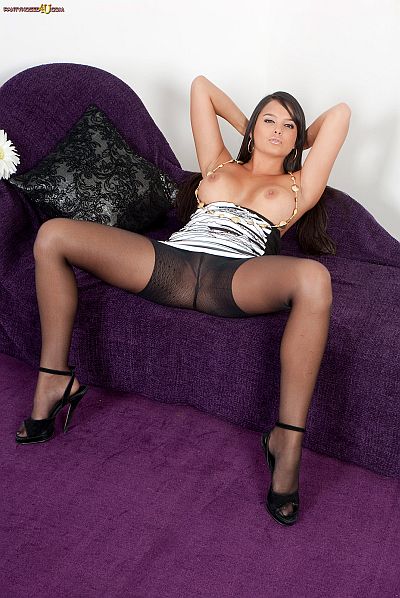 CLICK HERE TO SEE MOVIE TRAILER OF SASHA IN HER PANTYHOSE
Olive skinned Sasha shows just how sexy a pair of reinforced top pantyhose can be very exciting to wear.
The details of the tight Lycra pantyhose, stretched so snuggly over her trim firm ass and pussy, are a pleasure to see when she opens her thighs and lets us look.
'It's almost like I've got little shorts on, isn't it!' She remarks, smoothing her hands over her nylon covered hips and thighs.
'They feel so silky and soft', she continues, as she lovingly caresses her slender legs decorated in her favourite pantyhose. 'Don't they just make my legs look extra special.'
Sasha is hot, horny and raunchy, so willing to please you and loving every minute, showing you all she's got for your nylon pantyhose fetish pleasure.
See Sasha rub her pussy through her reinforced pantyhose crotch in this (122 image) photo set and full length movie 'Reinforced & Raunchy' at Pantyhosed4u.com.
Get our superb Vintage Flash newsletter each week - all the latest model info, updates, set preview pics and more!