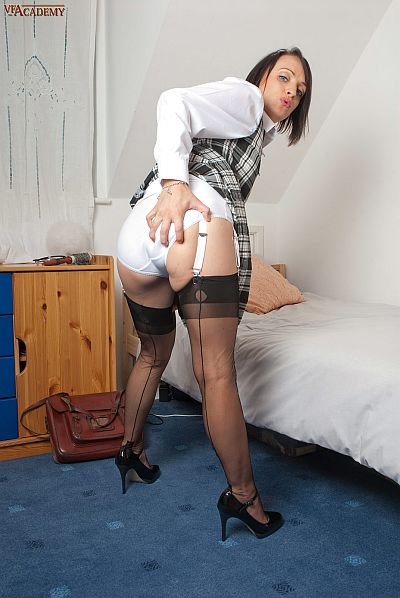 Poor Paige has been bullied by the other girls about her white, full cotton panties, and needs some reassurance that she is still a sexy girl in her big knickers.
We think that Paige is rather cute in her nice big panties, six-strap suspender belt and black fully-fashioned nylon stockings, and I'm sure you do too!
What she's looking for is a male opinion on her underwear, as she knows we have far more appreciation of what she is wearing than some of those those silly girls at the academy.
Paige goes to some length to show us her knickers and suspenders, as she seeks our approval with a lot of naughty teasing for our benefit.
Having stripped off her plaid tunic, she looks very cute with her shirt open as she plays with her tiny breasts with pert nipples.
As Paige lays back with stockinged legs wide open, you are welcome to watch as she fingers her pussy with one hand down her cotton panties.
Pulling her pantie crotch to one side so you can see her pink slit, Paige diddles her clitoris with one hand. Then peeling off her panties to get at her pussy, she pleasures herself on the bed while you enjoy the view.
See Paige Fox masturbating while you watch her in this (123 image) photo set and full length movie 'My Big Panties' at VF Academy.
Get our superb Vintage Flash newsletter each week - all the latest model info, updates, set preview pics and more!