Horny secretary Lucy is feels so horny in the kinky leather mini-skirt, sheer black nylon pantyhose and fuck me stiletto heels that her boss insists she wears in the office. Unable to concentrate on doing her work, she strips off and releases her sexual tensions by masturbating in her pantyhose and stilettos.
'They make me wear these high-heels and silky pantyhose, can they really not expect me to get turned on?' Lucy exclaimed, sitting by her desk with her legs slightly parted, giving a view up her leather skirt at her pussy in sheer nylon, black pantyhose. 'I'm in an office all by myself, do they honestly think I'm going to be doing any typing dressed like this? I've got to have some fun!'
Lucy opened her legs wider to give a better view of her pantyhose gusset, then ran her hands over the surface of her nylons, down to her ankles and back up to her thighs.
'Looks like I've forgot to put any knickers on again.' Lucy gave a naughty smile, rubbing her hand over her pantyhose crotch. 'I can't resist leaving off the panties when I'm wearing hose, because I want to feel the nylon close against my shaved pussy.'
Lucy stood up and bent over as she looked in the draw of the filing cabinet, her short leather skirt riding up revealing the cheeks of her arse and a glimpse of pussy, behind in the sheer nylon screen of her pantyhose. She eventually gave up looking for the file and not having anything else to do, she sat on top of the cabinet with her skirt pulled up around her waist and legs spread wide.
'Seeing as I've got some time to myself, I think I'm going to have to do something about that,' Lucy said, unbuttoning and opening her blouse, she caressed her beautiful all natural boobs, pushing them together and rolling the nipples between her fingers. 'I wasn't joking about my nipples, they are all standing to attention. she grinned, leaning forward so her boobs hung out the front of her blouse and pressing them together with the sides of her arms.
Lucy stripped off the blouse and skirt, then stood leaning back against the edge of the desk with her sexy hosed legs set apart, hand feeling the shaved mound of her nylon clad pussy.
'I love the feel of my pantyhose against the nice, plump lips of my pussy.' Lucy's hand moved between her thighs, rubbing the compressed lips of her cunt, trapped behind the oval gusset patch of her hose. She pushed her hand down the inside of her hose and massaged the gaping lips of her cunt.
'Oh, that feels so good spreading my pussy under this silky material,' she sighed, opening her cunt wide with her fingers to show the pink interior glistening with her wet juices through the sheer nylon of her pantyhose. She continued to masturbate with her hand moving behind the sheer oval gusset, her fingers making wet sucking sounds as they slipped between the tight walls of her juicy snatch.
*********************************
See more of horny blonde Lucy Lume in her lingerie, stockings and pantyhose videos at NHLP Central

Get our superb Vintage Flash newsletter each week - all the latest model info, updates, set preview pics and more!
NEW SERVICE FOR ALL SMART PHONE USING NYLONS LOVERS!
Text Nat here to get all her pics sent to your phone!
JUST TEXT 'WHITESEAMS' TO 69666
Phone fun day or night!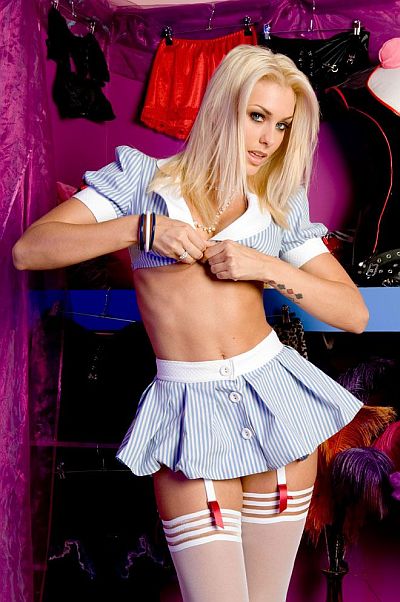 Terms & Conditions (Max 3x £1.50 per msg sent) help: 03333356970 PNP MEDIA - 2 STOP txt STOP
.......................................................................................................