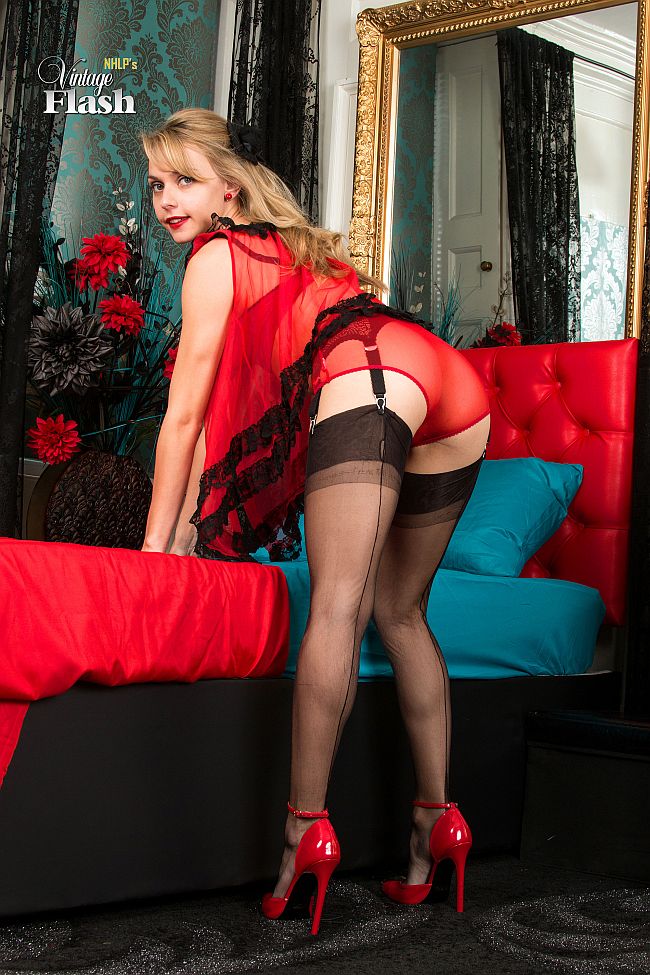 Chloe is on holiday in France were she had been shopping for lingerie and nylons to wear at an evening soiree. Back in her hotel room she dressed in her new outfit and got so excited she had to have a play in her her sheer red lingerie, black stockings and red, patent leather slingback heels.
Chloe relaxed on the bed, admiring how she looked in her red, baby-doll negligee and lacy, vintage style bra. She lay back and opened her legs, giving a close-up view of as she rubbed her shaved pussy through the sheer nylon of her panties. She began to masturbate and her hips writhed and as she pulled on her panties and stretched the nylon crotch tight against the mound of her moist cunt. She swung her legs up high and crossed them at the ankles, her hands smoothing out the loose wrinkles in her fully-fashioned nylons that had formed around the back of her knees.
Chloe stood, stripped off the negligee and releasing the clasp of her bra she teased the straps over her shoulders and down her arms. She squeezed the loose cups of her bra against her breasts, then stripped it away and caressed her petite tits in both hands as she posed in her black lace suspender-belt and red, sheer nylon panties.
Resting one foot on the bed, Chloe opened her legs and slipped her hand down the front of her knickers and began to rub her clitoris. She gasped with pleasure as her hand moved under the stretchy nylon and her fingers massaged the supple lips of her hot pussy.
Chloe stripped off her panties and lay on the bed once more, stretching her pussy wide open to show the thick juices oozing inside her pink hole. Her eyes closed and her red lips parted, sighing with mounting pleasure she thrust her fingers in and out of her sopping wet cunt as she brought herself to an intense climax.
Get our superb Vintage Flash newsletter each week - all the latest model info, updates, set preview pics and more!