Leggy blonde Samantha Alexandra looks so chic wearing a vintage cotton top and 60s style, tight fitting, pencil skirt and open toe, slingback heels. Dressed to perfection in her outfit, it's just how you prefer your women to look and of course, she's wearing some very special underwear and RHT nylon stockings guaranteed to excite your ardour.
'I love wearing these vintage stockings, they are genuine RHT nylon and look really sexy on my nice long legs,' Samantha said, sitting on the edge of the bed with her legs crossed. Then she lifted her legs and crossed her ankles to rub them together and draw attention to her white leather, slingback heels.
Samantha stripped off her blouse and put her hands around the cones of her white bullet bra, squeezing and massaging her voluptuous tits inside the cups. Laying back on the bed, she unzipped her skirt and lifting her bum, slid the garment from under herself and stripped it down her legs in their soft and silky, nylon stockings.
Kneeling, she gave a view of her luscious pussy through the sheer nylon crotch of her pink panties; her hand caressing her arse and the taut, pink suspenders attached to the tops of her tan, RHT stockings.
'I hope you've got your cock out while you're staring at me rolling around on this bed,' she said, then unhooking her bra, she slipped the straps over her shoulders and massaged her tits in the loose fitting cups, before stripping the garment away.
Laying back on the bed, Samantha pushed her hand down the front of her panties and rubbed her hot pussy under the stretchy, sheer nylon. Finally, stripping her panties down her legs, she left them stretched between the back of her knees and rocked back and fourth, moaning with increasing pleasure as her fingers slipped between the lips of her moist pussy.
Get our superb Vintage Flash newsletter each week - all the latest model info, updates, set preview pics and more!
NEW SERVICE FOR ALL SMART PHONE USING NYLONS LOVERS!
Text Nat here to get all her pics sent to your phone!
JUST TEXT 'WHITESEAMS' TO 69666
Phone fun day or night!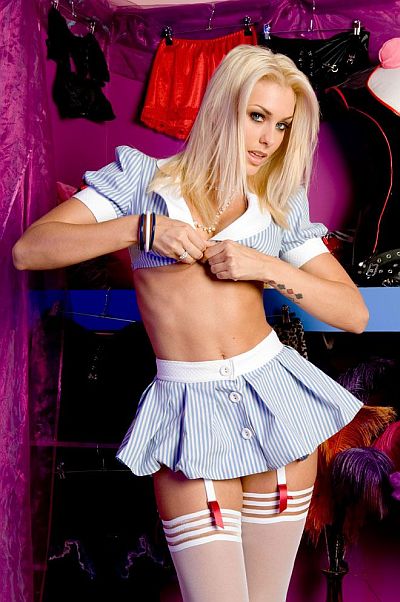 Terms & Conditions (Max 3x £1.50 per msg sent) help: 03333356970 PNP MEDIA - 2 STOP txt STOP
.......................................................................................................