Mercedes had spent the afternoon shopping in Knightsbridge in the West End, dressed very sexily in her smart dress, rht nylon stockings and heels. Her feet were very tired after all her walking around the posh shops and she was relieved be home where she could sit down, slip off her heels and flex her stockinged toes.
'My stockings feel lovely against my legs,' Mercededs said, as she lifted and extended her legs up to draw her hands over the surface of her sheer brown nylons. Then pointing her toes, she rubbed her nyloned feet together and gave a quick flash of her pussy under her dress, as her legs crossed and brushed over each other. 'They feel silky smooth and I bet you'd like to feel them as well, I'd like you too!'
Kneeling on the bed she unzipped her dress and stripped it from her shoulders, then gave a rear view as she pulled it over the naked flesh of her perfectly formed arse, revealing a pretty vintage, white garter-belt attached to her stocking tops.
Mercedes removed her bra and rolled over on to her back, then ran her hands all over her body and extending her slender legs, she pointed her feet to caress them in their silky, smooth rh&t nylons.
'I'd love to feel your big hard cock rubbing against my stockings,' she said, spreading her legs and pulling them flat against her chest so her stockinged feet were on display, then began massaging the naked lips of her hot, fleshy pussy.
Mercedes inserted several fingers into her tight snatch and rocked her hips, spreading her buttocks with one hand to expose the puckered ring or her arse as she masturbated to an intense orgasm.
Get our superb Vintage Flash newsletter each week - all the latest model info, updates, set preview pics and more!
NEW SERVICE FOR ALL SMART PHONE USING NYLONS LOVERS!
Text Nat here to get all her pics sent to your phone!
JUST TEXT 'WHITESEAMS' TO 69666
Phone fun day or night!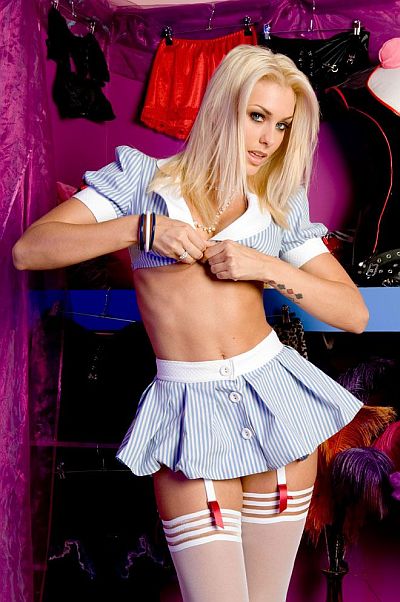 Terms & Conditions (Max 3x £1.50 per msg sent) help: 03333356970 PNP MEDIA - 2 STOP txt STOP
.......................................................................................................