Kiana was fantasizing about a girl from the local college hockey team who she would be playing against in a match later in the afternoon. She had a real crush on this girl and just thinking about getting close to her on the field was making her feel quite horny.
Kiana hitched up her pleated skirt and opening her legs, she rubbed her hockey stick against the slit of her pussy through the front of her pink, sheer nylon panties. 'She'll be in the changing room now, removing her shirt, undoing her suspenders, taking off her stockings and putting on her PE knickers.' Kiana mused, thinking about the girl she fancied, imagining her stripping out of her clothes and getting ready for the match ahead.
Kiana stripped off her uniform and played with her petite breasts, while teasing the soft, pink lips of her cunt through the sheer nylon crotch of her panties. Hooking her thumbs into the elastic waistband of her nylon knickers, she tugged them over the pert cheeks of her arse, sliding them over the metal clasps of her suspenders and down her stockinged legs.
'This is definitely much better than playing hockey,' Kiana said as she lay back and opened her legs, her shaved cunt framed by the webbing of her pink gingham, suspender belt and taut suspenders, attached to the tops of her black nylon stockings.
Kiana's fingers circled around the nub of her hot clitoris, then slipped between the moist slit of her pouting pussy, her hand increasing in rhythm as she frigged herself off to a satisfying climax.
Get our superb Vintage Flash newsletter each week - all the latest model info, updates, set preview pics and more!
NEW SERVICE FOR ALL SMART PHONE USING NYLONS LOVERS!
Text Nat here to get all her pics sent to your phone!
JUST TEXT 'WHITESEAMS' TO 69666
Phone fun day or night!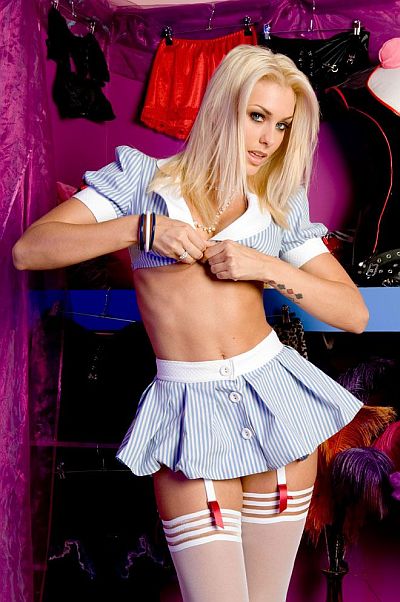 Terms & Conditions (Max 3x £1.50 per msg sent) help: 03333356970 PNP MEDIA - 2 STOP txt STOP
.......................................................................................................