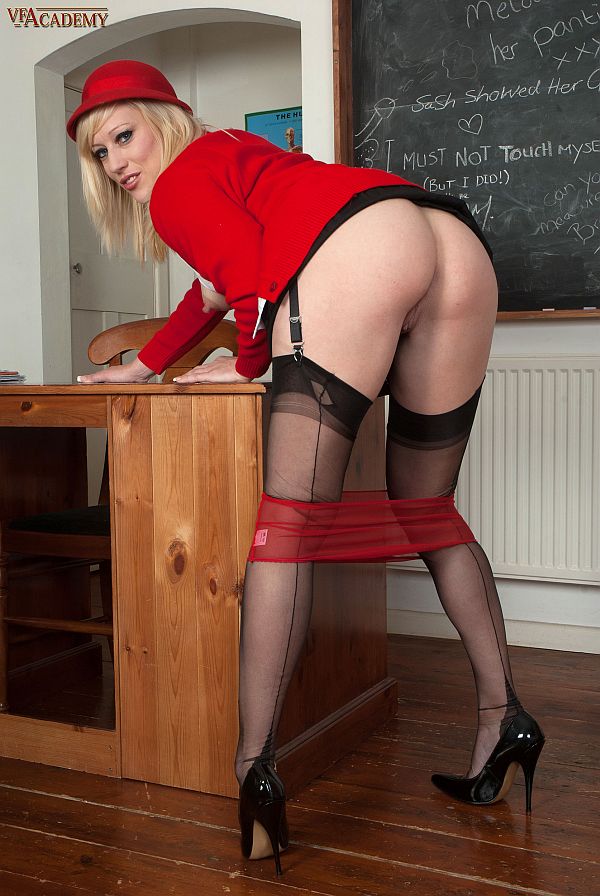 Axa J misunderstood what her 'French oral' exam was about and thought it meant she had to give her teacher a blowjob. At the time he didn't object too her sucking him off, but later sent her to the detention room where she related the incident to the janitor, who was naturally very interested in her story
'I was in uniform for my exam and he didn't complain when I spread my legs and showed him my panties,' Axa said, as she sat on top of the desk giving an upskirt view of her red, sheer nylon panties, through which the slit of her pussy could be seen.
'I showed teacher my long legs in my silky, smooth nylon stockings and how they felt so nice as I rubbed my thigh against his cock,' she added, demonstrating the action she performed by brushing one leg against the other so they made that swishing sound of nylon on nylon.
Axa pulled up her skirt to show how she gave the teacher a good view of her sheer nylon panties, seamed nylon stockings and suspenders. Then she moved her ass against the edge of the desk as she described how she rubbed her ass up against him in a very erotic way, teasing his cock with her pantied ass.
Opening the front of her blouse she pulled down the cups of her black bra, then played with her huge nipples that stood out like doorstops, they were so big and erect. Then she pushed her hands down the front her panties and her fingers made sticky sounds and she slipped them between the lips of her sopping wet pussy.
Axa stood and slowly hooked her thumbs into the elastic waist of her panties and pulled them down until they were stretched around her suspendered thighs. Then she turned around and bent over so her ass and pussy were in full view as she slipped her panties down her stockinged legs to the floor and her shiny, patent leather heels.
Stepping out of her panties she climbed up and sat on the teacher's desk, spreading the lips of her cunt wide open to show the hot pink flesh of her erect clitoris and the moist tunnel of her vagina glistening with her juices.
Kneeling on the desk with her round ass and naked pussy in full view, she vigorously masturbated with her fingers sloshing inside her juicy cunt and slapping against the outer lips, as she frigged herself off to an intense orgasmic climax.
Get our superb Vintage Flash newsletter each week - all the latest model info, updates, set preview pics and more!