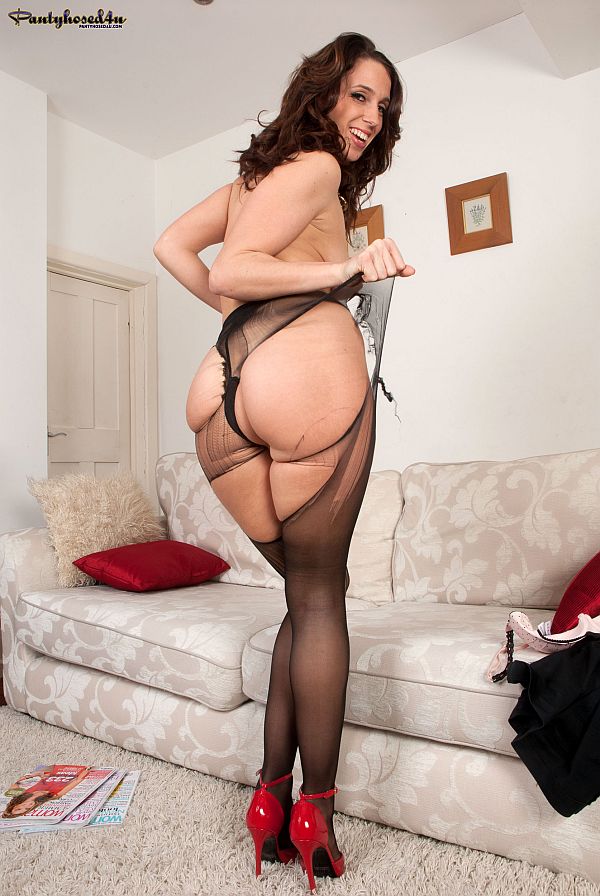 Being a trophy wife means that Tammy has everything she needs in the way of nice things, except for a man who can give her the attention she needs and satisfy her sexual desires.
'I'm sick of sitting at home being a lady, I think it's high time my wild side came out!' Tammy said, as she sat on the couch caressing her long legs in their shiny black pantyhose and red heels. 'Would you like to see what I'm wearing, I bet you would you naughty boy,' she asked suggestively, opening her legs sightly to give a tantalizing view up her skirt.
Kneeling on the couch she pulled up her skirt and suggestively wiggled her fabulous arse encased in sheer nylon pantyhose, then slipped her hands down the seat of her hose and run her palms over the flesh of her butt cheeks.
Stripping out of her top and skirt she reclined on the sofa with her legs spread to give a view of her pantyhosed crotch and her hand moving behind the opaque gusset as she fingered her wet pussy. Then gripping her pantyhose in both hands, she stretched them up and started to grind her hips with the nylon crotch pulled tight around her hot, throbbing cunt.
'I love wanking in my pantyhose and knowing you are watching me makes me very hot,' Tammy said, as she rubbed her fingers in the lubricated slit of her cunt behind the nylon screen of her tights. Her fingers dipped in her hot snatch as she masturbated in her pantyhose and increasing the rhythm of her undulating hips she reached her first orgasm.
Tammy then put both of her hands down the front of her pantyhose and pushed her fingernails through the nylon, ripping them open along her thighs so they laddered all down her legs. Then she tore into the remainder of the gusset, rending a hole and exposing the juicy lips of her gaping pussy which was oozing with her pussy cream.
Tammy then stood to give a view of her ass and gripping the seat of her pantyhose she ripped them open so the flesh of her buttocks expanded through the torn, laddered nylon.
Get our superb Vintage Flash newsletter each week - all the latest model info, updates, set preview pics and more!