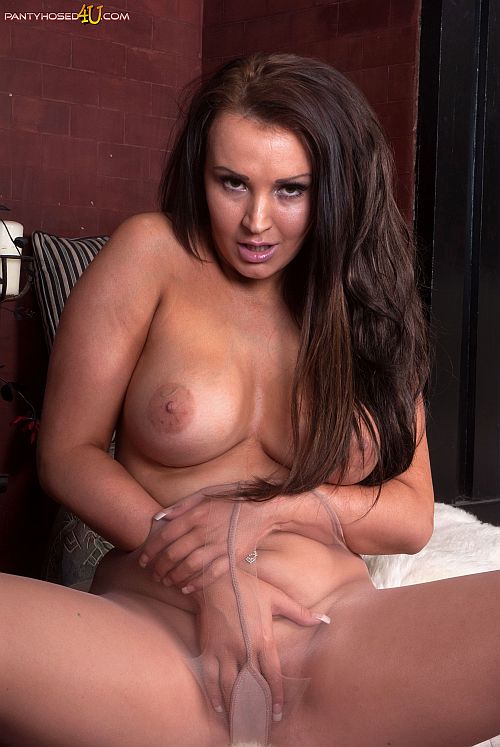 'These pantyhose make my legs look nice and long, feeling so soft and sexy,' Amy said as she leaned over and drew her fingers across the surface of her shiny nylon pantyhose that clung to her legs.
Sitting, she opened her legs wide to reveal her pantyhose crotch and began rubbing her fingers over the opaque reinforced gusset covering her cunt. 'All that nylon rubbing against my skin feels so good, I love pressing it against my clit', she said, massaging her hot cunt behind the tight nylon screen covering her crotch.
Amy pulled down the front of her dress and squeezed her big boobs together, licking her fingers to make them wet, then circling them around the large brown aureoles which made her nipples stand out firm and erect.
She then turned her attention once again to her pantyhosed pussy and continued to massage her cunt through the gusset. 'This feels so good and it's such a turn on know that you are watching me,' Amy said, her breath quickening at the sensation of her hand pressing against her clit through the nylon as she masturbated.
Pushing her hand down the front of her tights she rubbed her hot clit and slipped several fingers inside her sopping wet cunt; her hand moving under the front of her sheer nylon hose as she fingered her sticky fuck hole. Amy moved her hips in a steady, sensual rhythm as she built up her pleasure and then she suddenly felt herself cumming and reached her first orgasm.
Amy was now enthused with lust and ripping open her tights to get at her throbbing cunt, she finger fucked her gaping pussy hole, bringing herself off to another intense climax in her sexy nylon pantyhose.
Get our superb Vintage Flash newsletter each week - all the latest model info, updates, set preview pics and more!